Problematic substance use linked to domestic violence in Saskatchewan
Original Article: Madeline Kotzer · CBC News · Posted: January 24th 2018, 11:18:45 AM | Last Updated: January 24, 2018
View original article for full images and additional links.
During a 10-year period in Saskatchewan, 48 people were killed by someone in a domestic violence situation. Most often, it was someone the victim had loved.
In at least 15 of the 48 homicides, or 31 per cent, problematic substance use was a known factor.
These 48 deaths informed Saskatchewan's first domestic violence death review. Read more about who these 48 people were in part one of this series: 
In nine of the homicides, the perpetrator committed suicide following the killing. CBC has learned that in at least two of these cases, problematic substance use was a known factor.
In 11 of the 15 homicide cases in which problematic substance use was a known factor, the victim was an adult.
Donna Clements was one of them.
The story of Donna Clements
Donna Clements was charismatic, joyful and successful.
For years, she balanced a life full of family, friends and work as a single mother raising two children while running her own business, the Old Central Hotel, in her hometown of Esterhazy, Sask.
"You knew when she walked into a room. She drew people to her," said Dominique Peppler, Donna Clements' only daughter. "She just radiated positivity."
Everything changed when she met Brian Clements.
Peppler, who was a teen at the time, recalls that Brian Clements moved in within months of dating her mother.
Red flags
Peppler said shortly after her mother married Brian Clements in 1997, a commotion woke her in the middle of the night.
"I woke up and saw her bedroom door open, and all the lights were on, and I thought, 'What is going on here?' And I could see him. He had her pinned up against the wall in their en suite," she said.
"He was choking her, and I ran across the room as fast as I could and I jumped on him — and he kind of flung me across the room and then he left."
Peppler said her mother "took her by surprise" by covering for Brian Clements the next morning. 
Every day I wonder if my mom would still be here if somebody had just spoken up.- Dominique Peppler
She said her mom explained that he drank rye whisky the night before and it did not sit well with him – some people just couldn't drink it. 
Peppler said Brian Clements apologized soon after her mother offered this explanation. Although his promise to never do it again seemed sincere, she was shocked.
"She raised me to never ever let anybody, especially a man, treat me with disrespect," she said.
A couple months later, Peppler moved away and attended university for four years. After that, she moved to High River, Alta., and started her own family.
During this time, Peppler and her mom talked everyday on the phone. Life seemed great for Donna and Brian, as far as she could tell. They went on vacations together and her mom seemed happy.
Now that time has passed, Peppler said she sees Brian Clements had a serious problem he never dealt with.
Although he didn't drink alcohol every day, when he did there was trouble.
In May 2006, Peppler and her husband and son moved home to Estherhazy – six months before Brian Clements would shoot and kill her mother, before turning the gun on himself.​
'You have to speak out'
Little by little, Peppler learned more about the horrible abuse her mother had been suffering through, alone and in silence, for years. Five days before Donna Clements was murdered, she met with a lawyer to begin the process of divorcing her abusive husband.
Throughout her nine-year marriage to Brian Clements, Donna had faded out of the lives of her family and friends.
Peppler said she quit curling, golfing and stopped going out with her friends and spending time with her relatives – all things that were big parts of her life prior to her marriage.
"He isolated her. He did not want her hanging out with her family," said Peppler.
On Nov. 11, 2006, RCMP received a 911 call from Donna Clements.
Before they arrived, Brian Clements shot and killed Donna in their Esterhazy home and then killed himself.
"By the time that she decided to leave, it was too late," said Peppler.
Peppler hopes her mother's story will help others.
"Never, ever turn a blind eye. It's not worth it. If you suspect, if there's that kernel of doubt in your mind, you have to speak out," she said. "Every day I wonder if my mom would still be here if somebody had just spoken up, even talked to her and made her more aware that she shouldn't have been suffering in silence."
Asking for help
John Welden measures success this way: Someone, with a problematic substance use issue or disorder or an addiction, reached out for help.
Welden, regional director of Saskatoon's Metis Addiction Council of Saskatchewan Incorporated (MACSI), works out of the "heart of the hood in Saskatoon," as he fondly puts it.
This centre is one of 10 addiction treatment centres across Saskatchewan that offers detox programs to adult clients without a referral. In total, there are 23 centres in Saskatchewan offering addictions treatment.
According to the Ministry of Health, there are approximately 360 addiction treatment beds available across the province.
Weldan said domestic violence is a significant issue for many of the clients he serves.
"We see people coming in here who have been abused from birth and, of course, it's a learned behaviour. So they themselves become abusers — and addictions only lend to that," he said.
MACSI operates centres in Saskatoon, Regina and Prince Albert offering inpatient, outpatient and day programming in each city.
A note on terminology

| | |
| --- | --- |
| Substance Use                             | Refers to the use of any psychoactive substance, including all legal and illegal drugs, and alcohol.  Because of this breadth of application, the term is often modified with other terms — for example, problematic substance use. |
| Addiction | Refers to a health condition characterized by compulsive drug seeking and use, despite harmful consequences. An addiction is a substance use disorder of a moderate to severe nature. |
| Substance use disorder  | Refers to a cluster of cognitive, behavioural and physiological symptoms related to the use of a psychoactive substance and experienced by an individual who continues to use the substance despite the symptoms. |
A question of resources
In January 2017, MACSI's six-bed stabilization unit in Prince Albert closed due to a lack of qualified personnel. The program offered people a place to live for one to two weeks, while offering access to physical, mental, spiritual and emotional support.
Weldan, who is also MACSI's human resources director, said he could not find a qualified counsellor to work with the program.
"Resources are very limited in the province," he said. "It's pretty hard to find the necessary people."
According to the Ministry of Health, expenditures on mental health and addictions support rose by about 45 per cent between 2007 and 2008 ($216 million spent) and again in 2015 to 2016 ($308 million spent).
Dr. Peter Butt thinks a change to the way money is spent could make a difference. He studies substance use disorders and teaches through the University of Saskatchewan's College of Medicine and works as an addiction consultant with the Saskatoon Health Region.
"We've learned a lot about the brain science around addiction," Butt said. "We know, from the evidence, what works. But there's been slow uptake, with regards to the treatment sector."
An opportunity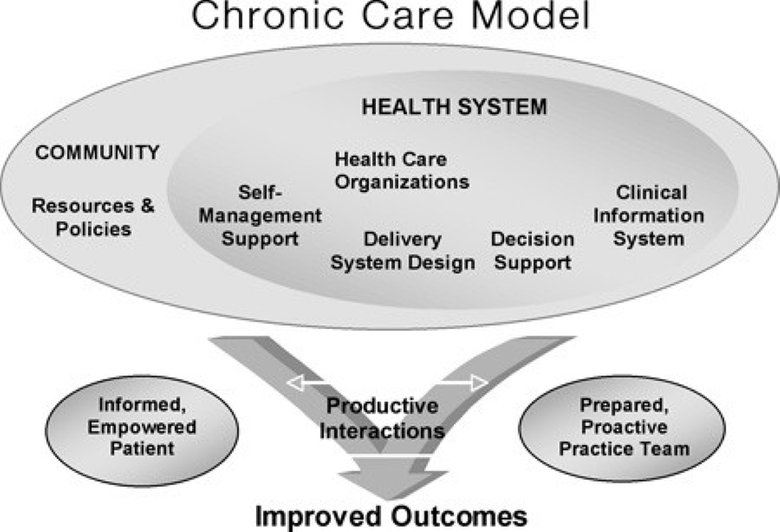 In March 2007, the federal government used this diagram to illustrate how chronic care works, in its report Chronic Disease Prevention and Management. (Wagner E.H., Chronic Disease Management: What Will It Take to Improve Care for Chronic Illness?)
Butt believes Saskatchewan's move to a single health authority presents an opportunity. He said health workers could increase the access to care for substance use disorders if a chronic disease management model was adopted.
He said the approach is a more comprehensive way to treat addictions. It's patient-centric and allows for knowledge sharing with every health-care provider involved.
Butt said a chronic disease model would allow health-care professionals to support people for a longer period of time. He noted this could include several years of continuous care.
However, Butt said he sees no indication that there will be significant change now that the new single health authority is fully operating.
Welden agrees that more needs to be done to bridge gaps in care.
"In my mind, if addictions were solved tomorrow we'd solve a big component of domestic violence as well," Welden said.
In late December 2017, MACSI was able to reopen its Prince Albert stabilization unit.
The Ministry of Health told CBC News that the Saskatchewan Health Authority provides addictions treatment using "evidence-based practices."
"Understanding a chronic disease model for some individuals who misuse alcohol and drugs is important," wrote a Ministry of Health official in an email. "It's also important to understand that recovery is possible."
The Ministry of Justice said the province's first Saskatchewan Domestic Violence Death Review's final report will be released in the next few months. Its aim is to offer recommendations that will prevent domestic violence deaths in the future.
In 2003, Ontario was the first province to complete a domestic violence death review. From 2003 to 2016, it identified 14 common risk factors that were involved in all cases it reviewed during that time. In 39 per cent of those cases, excessive alcohol and/or drug use was a risk factor.